kuba Nettersheim
HIDING IN HIGH GRASS Solo exhibition October 1st – November 5th 2023 Opening at October 1st at 11am Opening times: SAT + SUN 11am – 6pm Kulturbahnhof Nettersheim, D-53947 Nettersheim
POSITIONS Berlin Art Fair
with sgr a Jörg Jung September 14th – 17th 2023
Group exhibition at Parrotta Contemporary Art in Cologne and Bonn. My work is shown at the gallery in Bonn.
SONJA ALHÄUSER, MIRJAM BAKER, BENJAMIN BADOCK, ANDREA BÜTTNER,
FREDA HEYDEN, KATARZYNA KOZYRA, DETLEF ORLOPP, ANKICA MARJANOVIC,
GABRIELE UND HELMUT NOTHHELFER, TIMM RAUTERT, CLARE STRAND –
Curated by Birgit Kulmer
Gallery BURG LEDE BONN 6. May – 18. August 2023
Opening times: Fr + Sat 15 – 19h
Opening: Saturday 6th May 2023, 17h
Music by the artist and DJ Maria Wildeis 19 – 22 h
Gallery BRÜSSELER STRASSE 21 Cologne 5. May – 18. August 2023
Opening times: Wed – Fr 13 – 18h
Opening: Friday, 5th May 2023, 18h
THE FESTIVAL interrupts the routine of the everyday world through the intrusion of
a completely different truth, as Mikhail Bakhtin has shown with the example of
carnival. The festival is an institution that enables non-simultaneity and otherness
while obeying fixed rules of the game. The thesis of the decline of genuine festivity
is most radically represented by the festivity theorists of the Collège de Sociologie,
who define the genuine festivity as a collective ecstasy that rejects all rules. In
contrast, Roger Caillois in particular, in his L'Homme et le Sacré, has condemned
the festive events of modern mass society as pure manipulation and perversion.
As the archetype of the feast, the communal meal also has a special place in this
exhibition, which seeks to encircle the feast from two sides. On the one hand, there
is the banquet; on the other, there is the spectacle of the fair. The oscillation of
the feast between pretension and inadequate form, between silliness and pathos,
between undercrowding and overcrowding, sometimes creates a diffuse and disconcerting
effect of the embarrassing, which interrupts the enjoyment and nourishes
the expectation of scandal or sets in motion an inevitable maelstrom of melancholy.
Feriengäste 2023 | Labor, Cologne
Part of this summer's exhibition "Feriengäste 2023" (summer holiday guests) at Labor Projektgalerie, Cologne, invited by Michael Nowottny.
http://www.labor-ebertplatz.de/www.labor-ebertplatz.de/Aktuell.html
June 16th – August 6th 2023
Art + Object at Art Cologne 2022
November 16th – 20th
@ sgr a Jörg Jung
Cavelight @ sixpackfilm
October 2022
Cavelight is represented by Vienna-based sixpackfilm for international film festival distribution, sales and agency.
State Collections of Lower Austria
May 2022
Dust film and three Magenta pastels from Dust go to the State Collections of Lower Austria.
Jörg Jung – sgr a | sgr-a.de
Koelnmesse, Messeplatz 1, D-50679 Köln | www.colognefineart.com
Exhibition video
Mirjam Baker. Dust
3rd October – 21st November 2021
tresor at Bank Austria Kunstforum Wien in Vienna
curated by Veronika Rudorfer

Film Screening Matinée
In der "Factory" im Künstlerhaus Wien
Sonntag 10. Oktober 2021 um 11 Uhr
Im Rahmen der Ausstellung MIRJAM BAKER.STAUB im Bank Austria Kunstforum Wien findet ein Screening von Mirjam Bakers Filmen in der Factory statt.
Im Anschluss gibt es ein Publikumsgespräch mit Mirjam Baker (Künstlerin), Veronika Rudorfer (Bank Austria Kunstforum Wien) und Martina Tritthart (Künstlerhaus).
Veranstaltungsort: Künstlerhaus Wien, Karlsplatz 5, 1010 Wien, www.k-haus.at
Anmeldung unter kunstvermittlung@k-haus.at oder bei Ankunft. Teilnahmevoraussetzung 2,5G.
tresor im Kunstforum Wien
Mirjam Baker. Staub
3.10. – 21.11.2021
Eröffnung im Rahmen der Langen Nacht der Museen am 2.10.2021 um 19:30h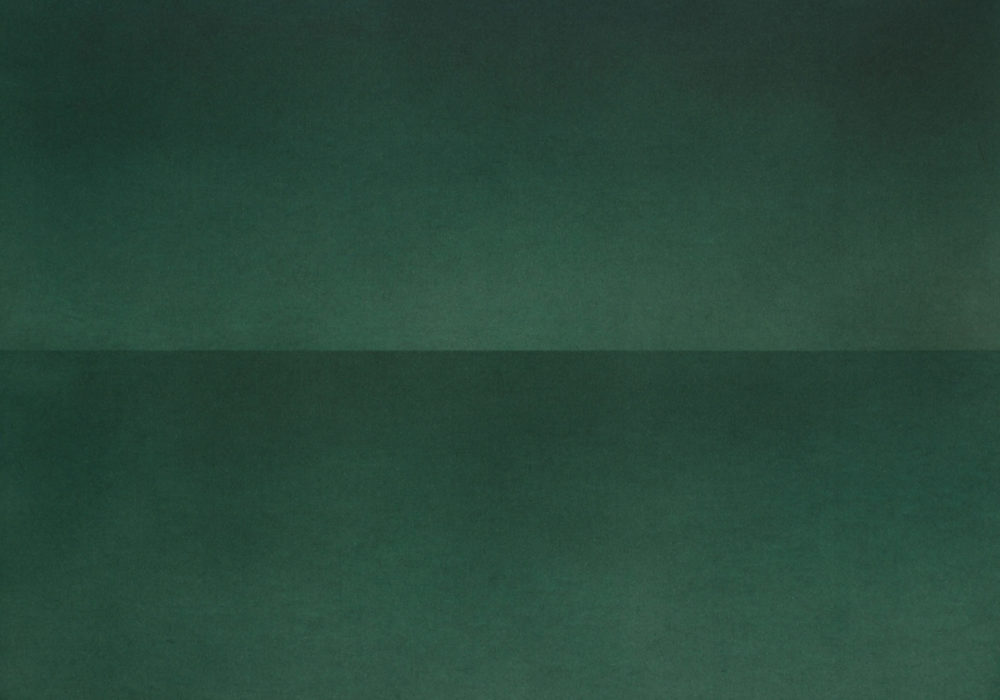 Die Künstlerin Mirjam Baker taucht im Herbst 2021 den tresor im Bank Austria Kunstforum Wien in Farbe(n): In den zwölf Sequenzen der Installation Staub treten die Betrachtenden in vibrierende Farbflächen ein – von sattem Purpur, über kräftiges Magenta, bis zu intensivem Phthalo Blau. Mit hochfeinem Pigment gemalt und als Film animiert, entwickeln die monochromen Projektionen in der Betrachtung eine nuancierte Räumlichkeit. Den Soundtrack zu Staub entwickelte Mirjam Baker in Zusammenarbeit mit der Bassflötistin Angelika Sheridan. Akustische und visuelle Wahrnehmung werden in dieser die Medien Malerei, Film und Ton verschränkenden Installation erweitert, Monochromie und Monotonie eröffnen neue sinnliche Erfahrungsräume.
Kuratorin: Veronika Rudorfer
Bank Austria Kunstforum Wien, Freyung 8, 1010 Wien |  www.kunstforumwien.at
Im Zuge dieser Ausstellung wird die Publikation Staub präsentiert. Autoren: Veronika Rudorfer, Daniel Kothenschulte. Hrsg.: sgr a Jörg Jung, Buchgestaltung: Steffen Missmahl, Übersetzung: Elizabeth Volk
—
In autumn 2021, the artist Mirjam Baker will plunge the tresor in the Bank Austria Kunstforum Wien into a flood of colour(s): in the twelve sequences of the installation Dust viewers enter into vibrating colour fields – deep purple, vibrant magenta, intensive phthalo blue. Painted in exquisitely fine-tuned pigment and animated as film, the monochrome projections, when observed, attain a nuanced three-dimensionality.
Mirjam Baker worked on the soundtrack for Dust together with Carl Ludwig Hübsch; it was set to music by the bass flautist Angelika Sheridan. Acoustic and visual perception are expanded in this installation, which dovetails the media of painting, film and sound; monochromism and monotony open up new, sensory and sensuous experiential spaces.
With the friendly support of the Film- und Medienstiftung NRW
Curator: Veronika Rudorfer
Bank Austria Kunstforum Wien, Freyung 8, 1010 Vienna |  www.kunstforumwien.at
The publication Dust will be presented in the course of this exhibition. Authors: Veronika Rudorfer, Daniel Kothenschulte; Publisher: sgr a Jörg Jung; Graphic design: Steffen Missmahl; Translation: Elizabeth Volk
Opening: 2nd October 2021 at 7:30pm
3rd October – 21st November 2021
Galerie Artecont Wien
Ein Bild von einer Landschaft
Landschaftsmalerei und -fotografie nach Gerhard Richter
25.9. bis 7.11.2020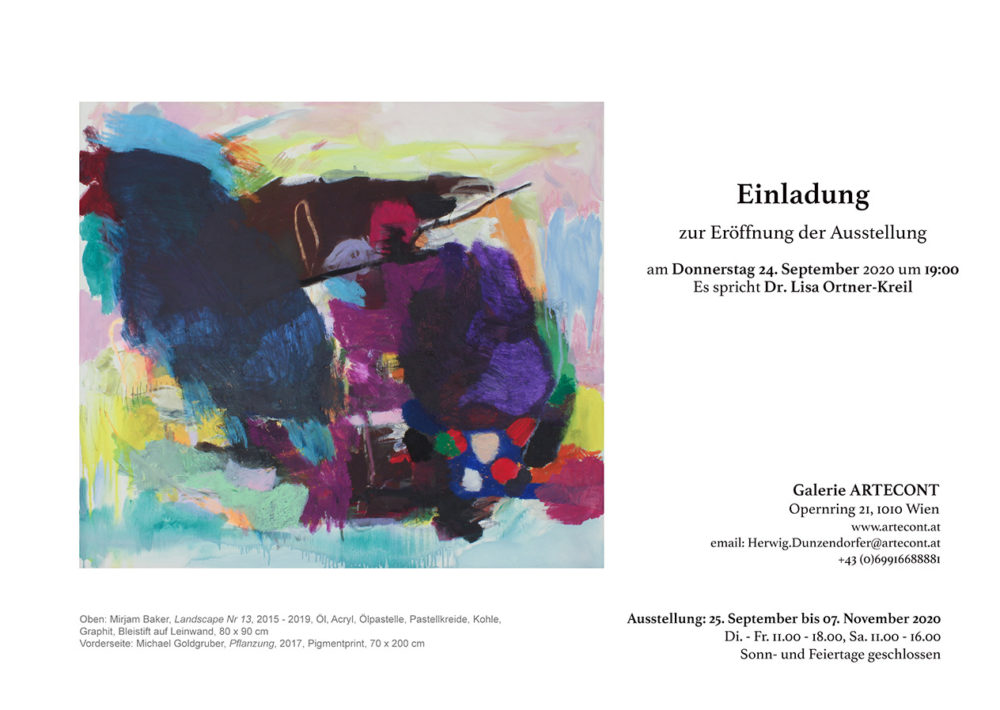 Eröffnung: 24.9.2020, 19 Uhr
Künstlerinnen und Künstler: Mirjam Baker, Michael Goldgruber, David Holzinger, Ulrike Königshofer, Agnes Prammer, Hubert Scheibl, Eva Schlegel, Philipp Schweiger, Helmut Swoboda
Landschaftsmalerei? Was zunächst wie ein Anachronismus klingt, erfreut sich seit geraumer Zeit neuer Aktualität. Vor dem Hintergrund von digitalisierter Lebenswelt und Klimawandel fällt es heute mehr denn je wieder den Künstlerinnen und Künstlern zu, überraschende, kritische und neue Blicke auf "die Landschaft" zu werfen. Die Landschaft gilt, genau wie das Stillleben, als eine Gattung gegenständlicher Malerei, die sich im 17. Jahrhundert autonomisiert hat. "Landschaft" nach Gerhard Richter, dem das Kunstforum Wien ab 1. Oktober eine Retrospektive seiner Landschaftsbilder widmet, bedeutet stets die Wiedergabe eines medial vermittelten Bild derselben. Ausgehend von Richters Auseinandersetzung und Erneuerung des Genres "Landschaft" versucht die Ausstellung in der Galerie Artecont einen Eindruck zeitgenössischer österreichischer Landschaftsmalerei und -fotografie herzustellen.
Die Arbeiten von ausgewählten Künstlerinnen und Künstler widmen sich, manche schon seit Jahrzehnten, manche erst rezent, dem Thema Landschaft und den impliziten kulturellen und ökologischen Fragestellungen: Wälder, Berge, Wasser, bedrohte und verlorene, idealisierte, domestizierte und abstrakte Landschaften. Die Ausstellung "Ein Bild von einer Landschaft – Landschaftsmalerei und -fotografie nach Gerhard Richter" versammelt dabei sowohl etablierte als auch junge Positionen und zeigt, welch generationenübergreifende und ungebrochene Faszination von diesem Genre in seiner ganzen Vielfalt ausgeht.
Kuratorin: Lisa Ortner-Kreil, Kunstforum Wien
Galerie ARTECONT, Opernring 21, 1010 Wien | email: herwig.dunzendorfer@artecont.at | www.artecont.at
Aufgrund der Corona Situation ist für die Teilnahme an der Vernissage eine Anmeldung erforderlich. Bitte geben Sie Ihren Namen und den Ihrer Begleitung bei office@artecont.at bekannt. Alle teilnehmenden Besucher werden zudem gebeten einen Mund – Nasenschutz zu tragen sowie die Abstandsregeln einzuhalten. Die Eröffnungsansprache wird live auf unserer Webseite www.artecont.at übertragen.